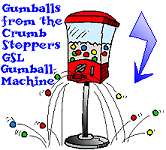 (1) Gumming Up the Works, By Gum!
In the interests of the health and welfare of Crumb Stoppers Secret Agents, gum which was originally obtained from the underside of restaurant tables and mixed with pond scum is now available in handy dandy dispensing machines, mixed with water from the Great Salt Lake to maintain their high standard of yucky.
Being ever vigilant and politically correct, Crumb Stoppers no longer advocates the use of toxic products, but still allows testing the yuck factor of its gum balls on mothers-in-law, especially if they are of the crummy variety. We never test the efficacy of our products on pets ... bosses, yes, pets, never!
If your mother-in-law is not crummy, Crumb Stoppers staff wants to know if your spouse has any brothers or sisters.