What You Can Do To Help
The first thing you can do is make sure garbage gets in the right place by Recycling all that can be recycled and putting all other garbage in the proper containers.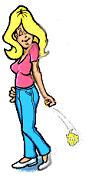 If you see a friend throwing something on the ground, ask them nicely to put in the trash receptacle instead of on the ground.

If you see a piece of litter, pick it up and throw it away, but remember never to touch anything that you're not sure of, because it may be sharp or be a hazardous material.

Have your group, your Scouting troop, your school or just you and your friends, schedule a pickup day for your neighborhood and invite everyone to join you.



Recycling isn't something that works unless we work a little bit to buy products made out of recycled materials Encourage your family to purchase at least ONE more product in a container which can be recycled when they do their grocery shopping.

You'll feel GOOD about doing your part to keep our American way of life from becoming a crummy sewer. There's already enough suing going on as it is, why spend time in court when you can be cleaning up our act right away? It's easy to read "recycled materials" right there on the label !!!

Secret Agents --


Tell us about what you're doing or others that you know about are doing, to clean up our world. Crumb Stoppers will put your email and the email from others in our Crumb Stoppers newsletter.

Until then, remember to be conscious of what you're doing to our Earth.

---