Snow Job
Mood:
cool
Topic: Short Story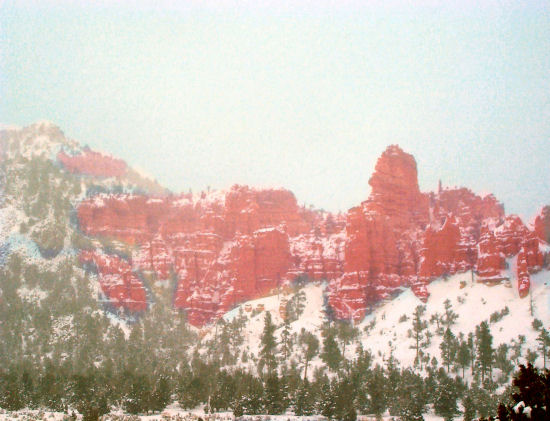 It's pretty much the same since I first took the trail back 40 years ago. People leave campfire wood for the next person, clean up their litter and move on.

That's why it took me by such surprise to see the place trashed. The campsite is near the summit, about 12,000 feet. There's only the one small glade, flat against the surrounding rock. It's always had that pipe with fresh water pouring out into a cool stream. It's an ideal place to stop when the weather's right.

I sighed and began cleaning up, stuffing garbage in one of the plastic bags I always take with me as part of every hike. Down by the road at the end of the trail I always fill one or two up.

The boot sticking out of the shadows behind the stunted pines made me halt fast. It twitched and a primeval shiver slid up and down my spine before I inched forward to see what it was connected to.

She was around 30, blood caked on her forehead, but her eyes were open and knowing. She knew I was there, all right. I knelt down whispering "It's OK. You're OK now."

Her lips trembled as I took my folding cup and filled it at the stream for her. My ears were up for any other sound. People usually don't hike alone up here and if they do, they know enough to let someone know. I wondered why she was hidden like this away from the warmth of a sleeping bag or tent. All she had on was jeans and a plaid shirt.

"Do you have a cell phone?" Her voice sounded raspy like she hadn't used it for awhile. I shook my head no and took my cup back. "How'd you get hurt?" I prompted.

"Two men attacked me." Her eyes closed and opened agin with effort. "They gone?" I hitched my camping knife into my hand and got up to look around Agni. Her voice trailed after me. "Don't hunt for trouble. Just get us out of here."

I didn't have to hunt. It was right there staring me in the face. I nodded sourly as the one with the rifle pointed at my belly laughed out loud.
Posted by mrpun at 1:32 PM MST
Updated: Sunday, 27 November 2005 1:40 PM MST